In the world of B2B sales, success is not just about closing deals—it's about understanding and measuring the right metrics that drive performance.
That's where Key Performance Indicators (KPIs) come into play. KPIs are essential for tracking and evaluating the effectiveness of your sales efforts, enabling you to make data-driven decisions and optimize your sales strategies.
Here are some of KPIs that can be tracked for different B2B sales designation (INFOGRAPHIC):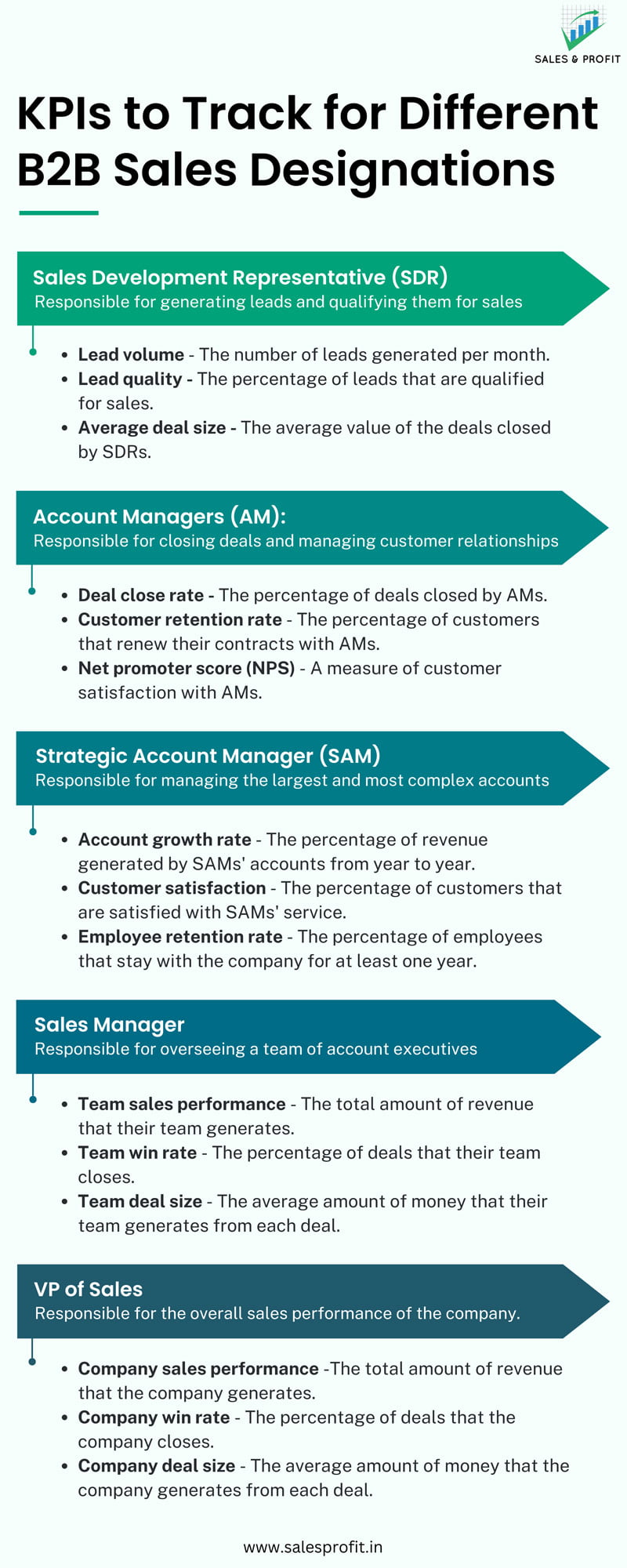 (Click on the image to enlarge)
The specific KPIs that are most important for a particular B2B sales designation will vary depending on the company's goals and objectives. However, the KPIs listed above are a good starting point for any B2B sales team.
By incorporating sales training into your overall sales strategy, you can enhance the effectiveness of your team and maximize the impact of their KPIs
In addition to the KPIs listed above, there are a number of other metrics that can be tracked to measure the success of a B2B sales team. These include: 
Sales cycle length – This measures the average amount of time it takes to close a deal.
Sales pipeline velocity – This measures the rate at which deals move through the sales pipeline.
Customer acquisition cost (CAC) – This measures the amount of money it costs to acquire a new customer.
Customer lifetime value (CLTV) – This measures the amount of revenue that a customer generates over their lifetime.
Here are some additional tips for tracking KPIs:
Set specific and measurable goals. What do you want to achieve with your KPIs? Once you know what you want to achieve, you can set specific and measurable goals.
Track your progress over time. How are you doing against your goals? Tracking your progress over time will help you identify areas you need to improve.
Make adjustments as needed. If you're not meeting your goals, don't be afraid to adjust your KPIs or your sales strategy.
FREE Consulting Call to Overcome Your Sales Challenges
Request a 100% free "no obligation" sales consulting call where we will understand your current sales challenges and help you with proven methods to solve those and improve your sales metrics and grow your revenue.
(Already 100+ B2B companies have seen growth in their sales and revenue with us)